In the News

Some information about Covid can go here.
D-Troop Updates

Our San Antonio, Texas reunion is approaching fast. Dates for the event are April 11-14, 2022. Be sure to mark your calendar and make your reservations right away.
Did you Know?

You can submit your own D-Troop story or experienceby going to the story submittal page. All stories will be reviewed for appropriate content prior to listing.
Welcome

I would like to welcome you to the D-Troop website. It's intended to keep all our D-Troop pals in constant touch. Many of us served and operated as a well-oiled machine during the Vietnam War, and our hearts were all touched by some of the bravest and most courageous soldiers of the time. After many years with absolutely NO contact with my Army pals, in 1988, I decided to create this site. We have a great bunch of guys keeping in contact with one another. Many have also donated their photos, stories, documentation, memories, and much more over the years and I hope the trend continues. It remains to be a truly cohesive group of good guys that

recognize the extreme role we played in Vietnam. By visiting the pages of the site, you'll realize we were a bunch of young kids with dedication and loyalty to our fellow soldier and most of all... our country. We will never forget our friends... all those that we fought along side. Even more so for ALL the brave young soldiers that made the ultimate sacrifice.
Discover

Visitors since May 06, 1988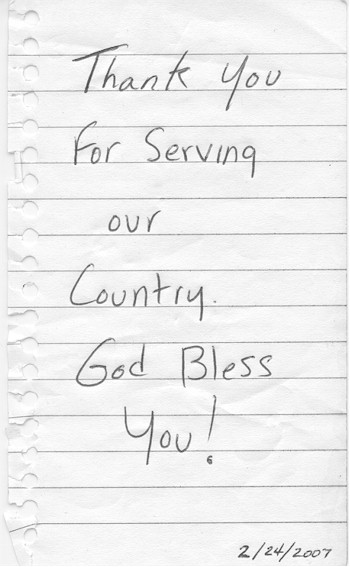 Cudos
1Since February 2004, there has been a substantial gravitation to the site. We now have nearly 300 names and contact information for pilots, gunners, "blues", admin, maintenance and others, which now provide an avenue for many of our friends to keep in touch.
2John Steinbeck speaks of flying in Vietnam...
Only a handful of people have won both the Nobel and Pulitzer prizes in literature. One of them was iconic American novelist John Steinbeck. His incredible body of work stretched from Tortilla Flat to Of Mice and Men, from Grapes of Wrath to Cannery Row to East Of Eden. He had a gift for the language that few, before or since have possessed. Not widely known is the fact that in 1966-67, a year before his death, he went to Vietnam... Read More
3 I have the state of Arizona Purple Heart license plates on my car. Recently while my wife was out shopping, she returned to find the following note tucked under the windshield wiper of our car. (see left) Nice to see kind words from a patriotic American. As simple as the note is, it sure says a lot. Made me feel good and anyone that ever served in the military can be proud and accept this note of gratitude. There are still a lot of grateful Americans who aren't afraid to express their appreciation. (I added the date)